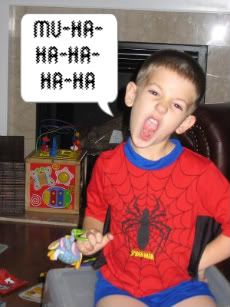 I really wish I could remember all the details, but I'll tell you what I can...
On Saturday morning, Jackson woke up early (even for him) at 6:00 - screaming in his bed... Of course I rushed up to see what was the matter - and he had thrown up all over himself and every item in his bed... Fast forward to the soccer game at 9:00
that we should not have taken him to, and he throws up again. On the way home, as I'm inside Heritage Cleaners picking up a few items of Rodney's, Jackson is rushed to me with the not-so-pleasant news that he had messed up his underwear while waiting for me in the parking lot...We took care of it inside, of course (even though the sign clearly read, "NO PUBLIC RESTROOMS, THANKS, MGMT.") Whatever. The dude behind the counter was very understanding, so luckily this paragraph doesn't have to end with "Then I told him where he could shove his "NO PUBLIC RESTROOMS" sign and said "Have a Rotten day, yourself!!"
Mercy...
All was well on Sunday. The comings and goings of church and our callings even went on without a hitch. I had actually convinced myself that Saturday's proceedings were not, in fact, due to a mean bug, but rather to the greasy bratwurst that Jackson inhaled the night before...
Monday brought more upset tummies - Rodney & I felt pretty gross at bedtime, Rodney was unfortunately (or fortunately) relieved a few times as he bowed to the porcelain god, and I just... felt gross. Emily, Mama and Grant were in town to crash before their Tuesday morning clinic appointment, and lucky for me, Emily had a super-duper-kick-the-nausea pill. I'm not sure what it was, but it kept me from having to... you know... ;)
Tuesday night (last night), Brady started the throwing up at 1:30. I think by 4:00 when I went back to sleep, Rodney & I had stripped his bed, stripped my bed, washed 2 loads of clothes, set 2 foam mattress toppers on the back porch to air out, (not to mention walking out there at 2:00 am gave me the willies), and showered my screaming almost-3 year old 2 times. Oh, almost forgot the trashcan that needed the rinsing out. Ga-ROSS! Today, Brady has had phase two; the rosy-smelling diarrhea. His poor little bum is so burnt up that he's cried every diaper change since eleven o'clock, which oddly enough just might be eleven times. Poor guy.
I'm blogging at 7:00 pm for one reason, and one reason alone. Rodney is H-O-M-E and I-N C-H-A-R-G-E! And I'm beat! He asked if I wanted to leave, and I frankly have less interest in getting showered and out of the house than in getting my teeth cleaned. Just for giggles, let me share some pictures of around our lovely abode on Shady Willow Lane that are all from today...Mind you, many of these are just an insight into the things that have been neglected these past several days. Or weeks. You decide...
Jackson standing proudly beside some sort of "gather things from around the house and make a CREATION" creation. :) I love him!!!!
Brady with chocolate covered fudge-pop face. Taken around 10:30. I dare you to make fun of me for giving that to him at that hour. DOUBLE DARE! Oh, and yes, that's a chocolately mark on the light sagey green bedspread thingy... I think his face had some sort of MAGNET which drew him to my bedding. Who's surprised?? Me neither...
The bed in the playroom where Rodney finished his less-than-stellar night's sleep... No, not because of the quality of the air mattress... Rather, the quality of sleep with a 4 year old by your side...
The bed that Jackson should have slept in throughout the night. He said he didn't like being in there alone... (Brady's usually about 5 feet away in his own bed...)
The couch where we proposed Jackson sleep, as he started the whining that he "didn't want to be all by himself." Mind you, this is on the other side of the room from the air matress that Rodney would later be sleeping on...
Brady's bed.
The pile of 2T Brady-sized underwear that I'm keeping in the middle of their floor for no other reason than I found them about a week ago, and don't know where to put them!
The pillow-case-less pillow and the many stuffed thingys that are all too often scattered around the big boys' room.
The pile of shirts that are too little for Brady and too big for Carter that need a home, desperately.
Laundry de-la boys. It's been in those baskets for some time now... You'd think I'd prefer to FIND clean clothes in those two hampers at the top of my stairs, rather than in their dresser drawers.
Enough ramblings...
Thanks for reading if you got this far. As I may have mentioned before, this blog is for me to remember the little things... Be it good, bad, ugly, or somewhere in between...
Lastly, if you have a few minutes to read some words from Elder M. Russell Ballard, I enjoyed hearing what he had to share about the role of mothers. Here's the link...
Daughters of God
.
I found this link
here
.